Feeds are templates for building specific files of product data that are submitted to or puller by your advertising and selling channels. GoDataFeed contains 200+ pre-built channel templates ready for you to setup.
In the following sections of this article, we will explain how to setup your feed and submit it to your advertising or selling channels.
---
Best Practices
Download and refer to your imported product data while completing your feed setup

Go to Products > Catalog > Download
Open the zipped .csv file in your favorite spreadsheet application

Compile your feed often to review your setup and to ensure your mapping, filters, categories and rules correct
Check your feed's validation status for any validation warnings/errors or channel processing report errors (at least once a week for maintenance)
---
Mapping product fields and static text
The system will automatically map system fields to required fields. By default, fields like Sku, Price, URL, ImageURL, Brand, Description and Title, will be populated from the source data. You can add or remove these default field mappings.
Then, you can map more of your product data by mapping a source field or static value.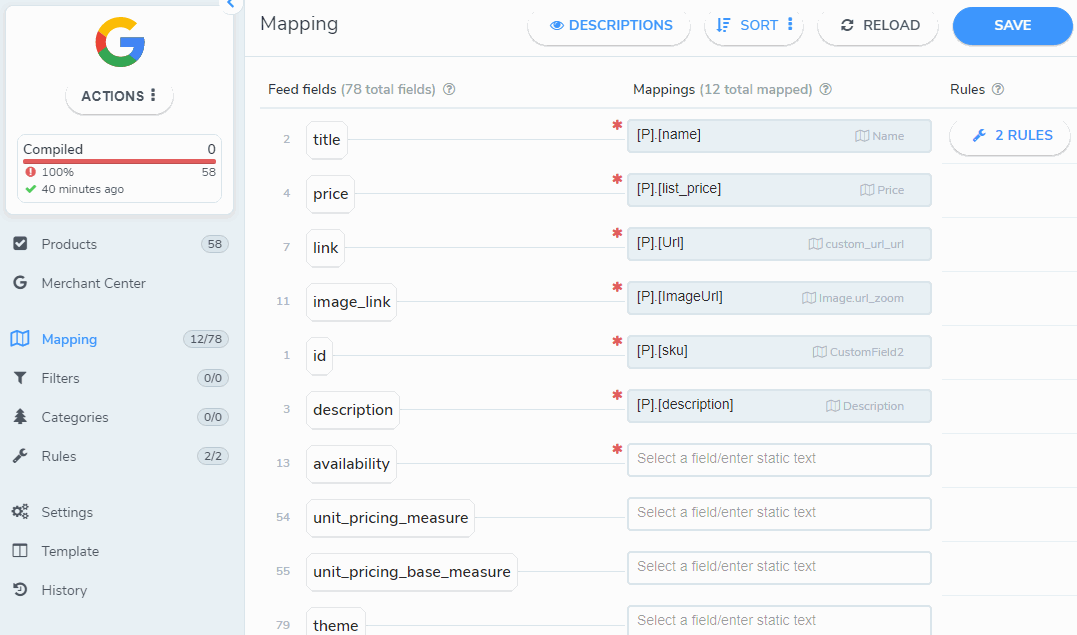 Please note, Mapping is executed first when the feed is processed. Any filters, categories or rules will be processed after we map the feed data.
Ways to map data
Imported product source field

Designated with a prefix like this: [P.][Name] or [P.][color]
As mentioned above, most feeds will have standard fields already mapped like Sku, Title, Brand, Description and ImageURL
To map a source field, type to find a matching source field and then select the field from the drop-down list
The source field list shows you both the source field name or label and the system field name

Static text string or number for all products

Useful if you need to map accepted values that are not in your source data
For example, Google 'availability' can be mapped to the words "in stock" and then you can create a rule to set 'availability' to the words "out of stock" where your quantity is 0
Rules count & filter button
On the right side of the screen, you will see a button showing the number of rules for a given feed field. When you click this button, you will be taken to the Rules page with the rules list filtered to show you all rules for the feed field.

Additional actions on the Mapping page
Show/hide feed field descriptions which may contain important details about channel data requirements and accepted values
Sort fields using the drop-down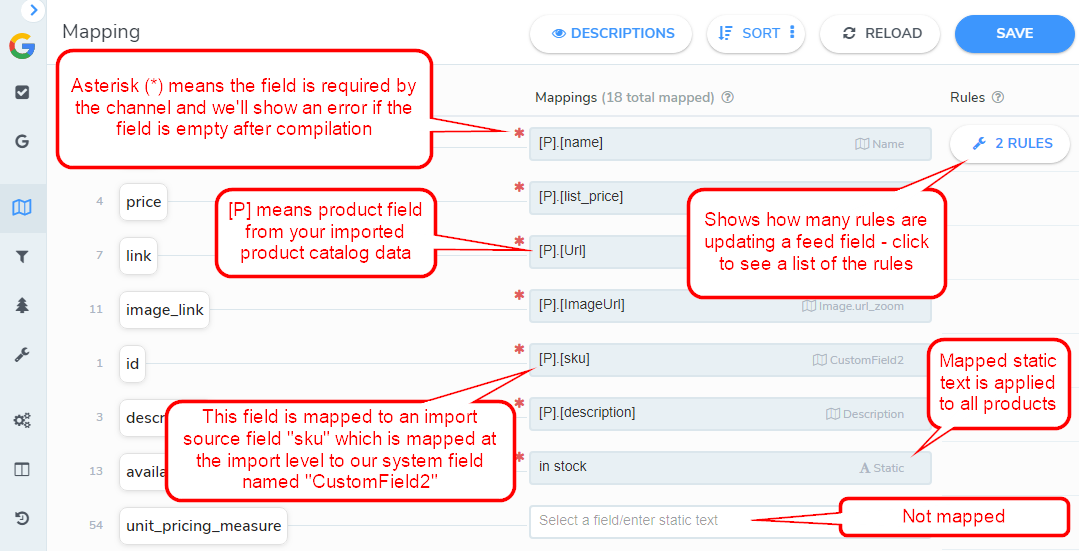 How import mapping and feed mapping relate
When you import your products, we map your source data to our internal system fields which we call your product catalog. Remember that the first 19 or so internal system fields are called Standard Fields. We provide 200 available custom fields to import additional data. You can use the import mapping labels to change the field name we show in the feed field lists on mapping and rules.
When you add a feed, our system will auto-map any matching standard fields. From the feed mapping page, you can map additional imported source data fields.
---
Excluding products from the feed
There are three ways products can be excluded from a feed:
Filter rules
Manual exclusions
Validation errors
Using Filters to exclude groups of products
Filter rules allow you to exclude many products based on data values or empty fields. In this example, a filter rule is created to exclude gift cards. Filters are inclusion rules which means you will need to write the conditions in a manner which correctly includes only products you want to include in the feed.
In the example below, the conditions are created to only include products which page_title does not contain "gift card" and Category does not equal to "Gift Card". If you want to create the same rule, then your conditions will be different depending on your product data.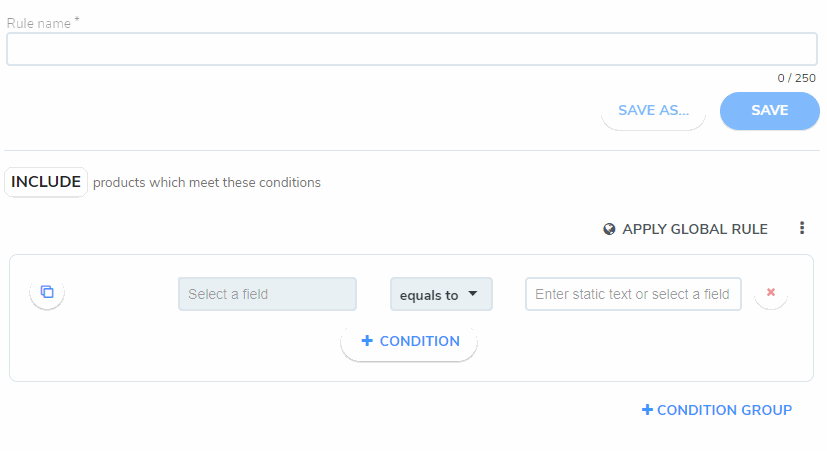 Notes about feed filters
An unfiltered feed includes all products from your product catalog unless you manually exclude them on the product validation page

When we compile your feed, each rule is executed and products that do not meet the rule conditions are removed from the feed

You can manually exclude or include individual skus that are affected by filters using the options in the table on the Products page

You may also filter products at the product catalog import level using import filters (requires Ultimate plan)
---
Map your categories and create category rules
There are two ways to categorize products in your feed: mapping and rules.
Category Mapping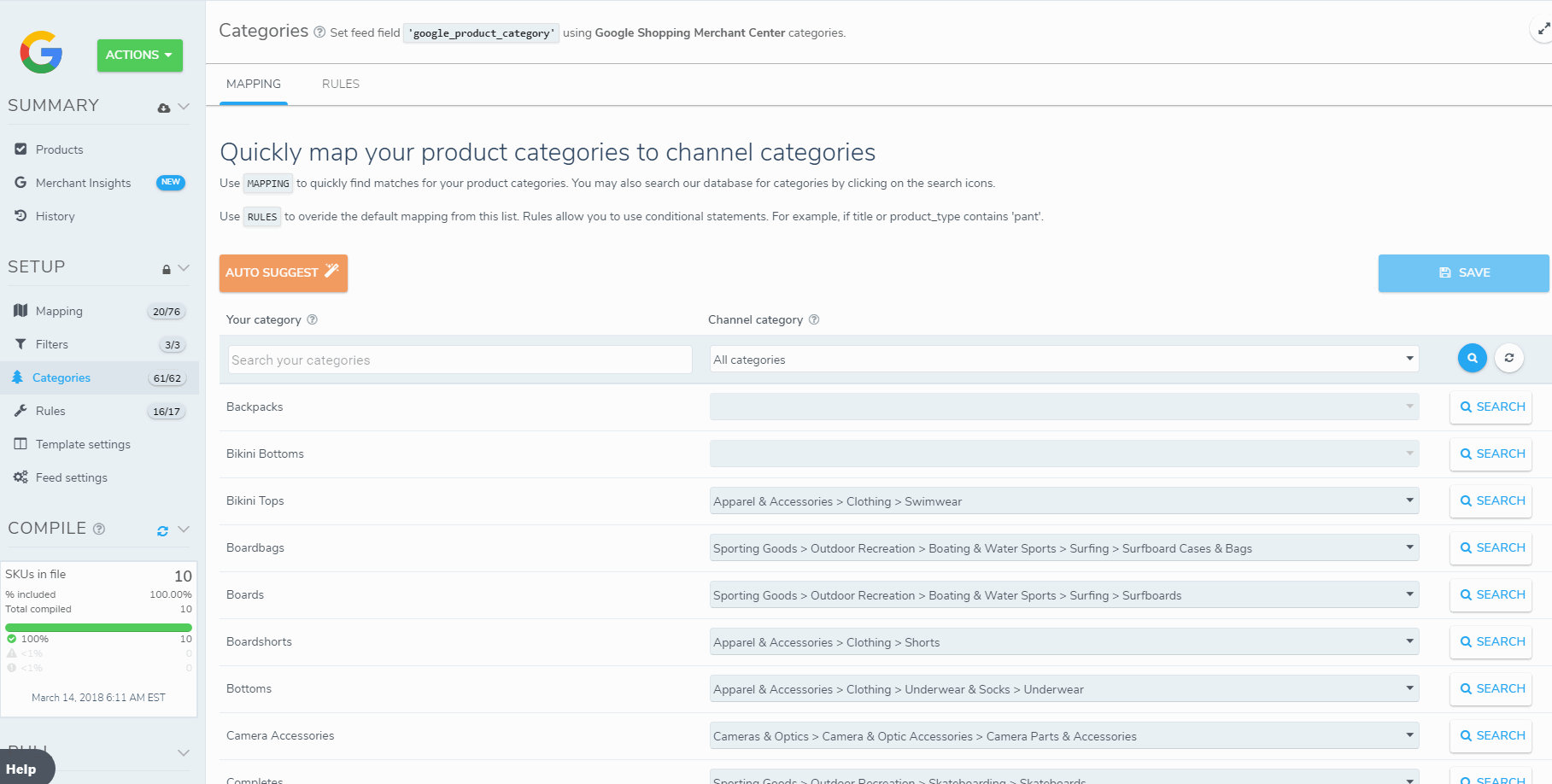 Category mapping makes categorizing products fast and easy. We look at your imported categories from your store and suggest matching categories from the channel. Most categories will yield suggested matches, but some categories will return 'No Matches Found.' For these unmatched categories, you will need to create category rules.
Category Rules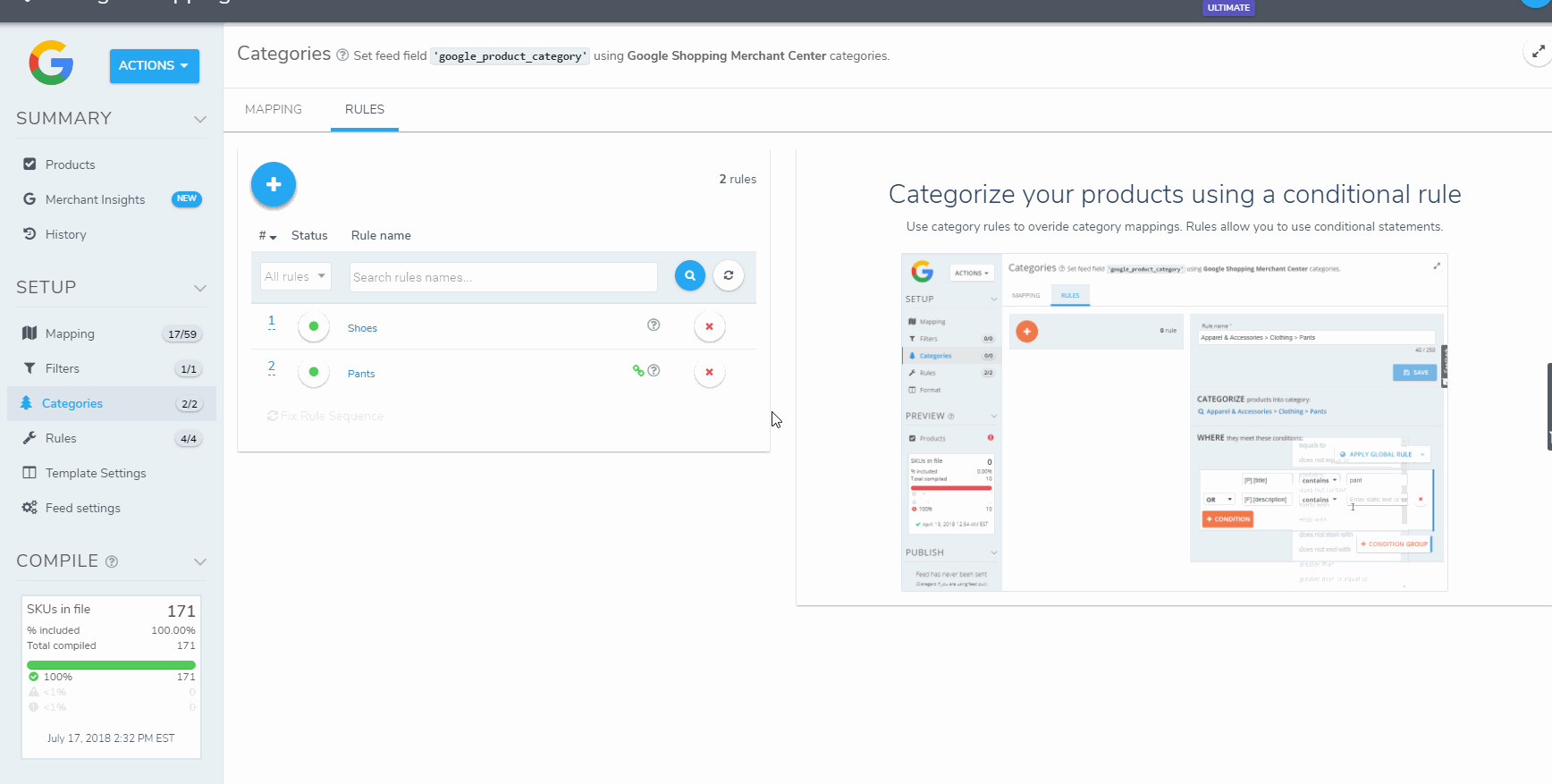 The Category Rules section allows you to override category mapping using rule conditions. If you map your category "Diamond Rings > Wedding Gifts > Gifts Above $500" to Google's category "Apparel & Accessories > Jewelry > Rings", maybe there are some products that are not correctly categorized on your store. You can create a rule that says, categorize products into "Apparel & Accessories > Jewelry > Rings" if the product title or product type from your store data contains "rings".
---
Customize your product data with rules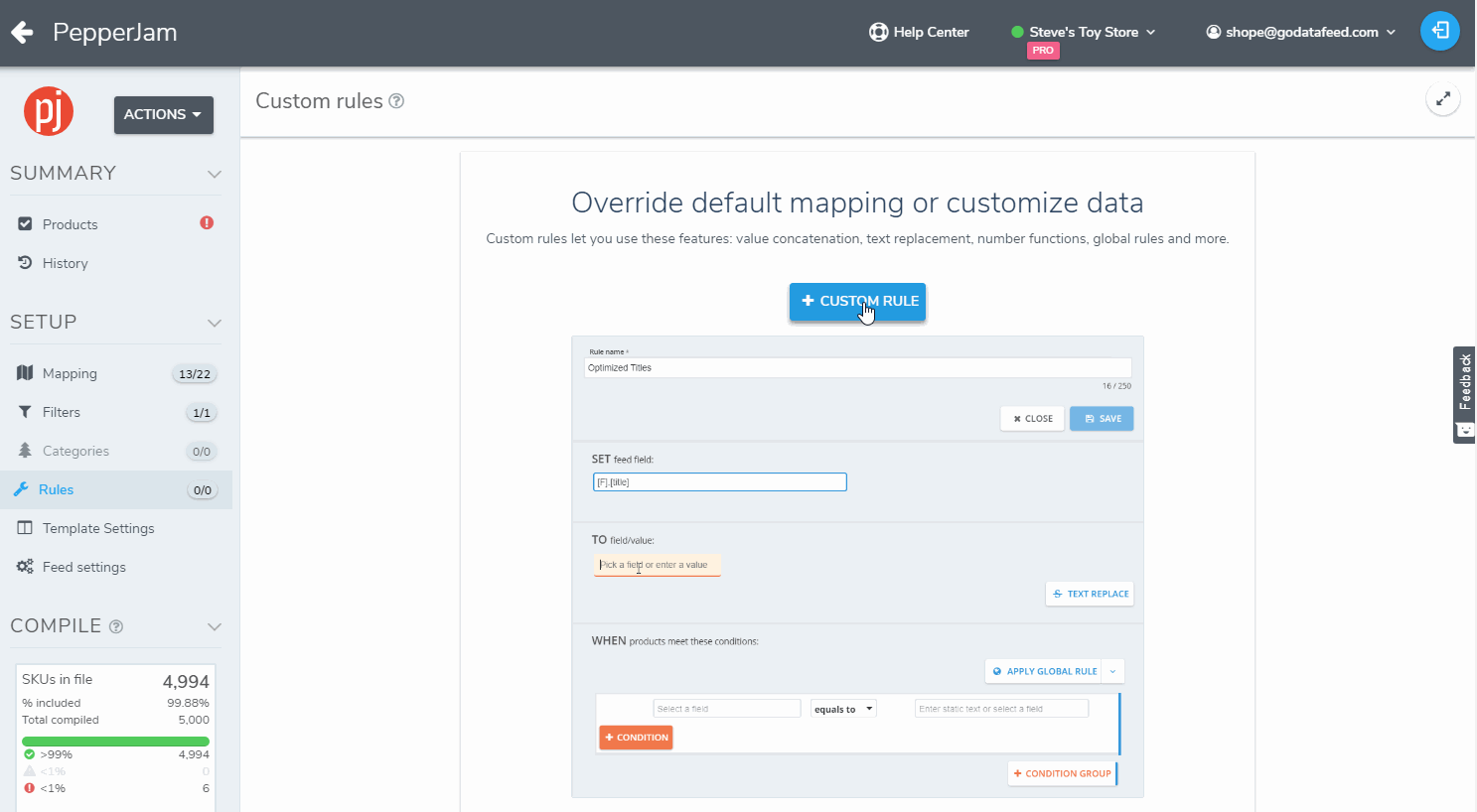 You can use Rules to do the following data manipulation and optimization:
---
Template Settings
These are settings to modify the feed template, feed file and processing reports. These settings are locked for common feed templates which are used by all stores in the app. If you want to customize any of the template settings or add/remove any feed fields or validation rules, then you must first clone the common feed. Custom feed templates allow you to modify these settings because the custom feed is only available to your store or account.
---
Feed Settings
Submit your feed to the channel by completing the submission parameters. This may require FTP, API, or other details from the channel. Please refer to our channel specific articles for more information. Otherwise, you can also configure the feed file settings, email alerts, submission schedule, or generate a feed pull url.
Some important actions to complete on this page include:
Name your file using the text box on the left, if needed
Add your email address to be informed when the feed succeeds and/or fails to submit
Complete the channel specific submission parameters
Add a submission time for when you want us to submit the feed (this means import your source data, compile the feed, and submit the feed to the channel)
Generate a feed pull URL to provide in your channel's settings (i.e. Facebook)