This article reviews the Help articles resources to follow when submitting a feed to a channel, where to find your feed submission settings, and reviews the different feed submission options.
Channel submission articles
We have step-by-step articles for every channel template here in our Help Center that walk you through how to submit a feed to the channel. Here are articles for some of the most common channels that walk you through the steps to publish your feed. If you do not see your channel listed here, you can search for the channel name in the search bar to locate that channel's submission article:
---

Where to locate feed submission settings
Feed 'Settings' page
The first step in submitting a feed to any channel from GoDataFeed requires you to navigate to the 'Settings' page found in the left-side menu in your feed: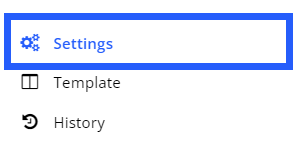 ---
The two feed submission methods
There are two methods for submitting feeds: via Feed Pull URL (the 'Fetch' method) and via FTP/SFTP submission.
Submitting a feed to a channel via a Feed Pull URL means the channel will 'fetch' the feed from our system at the schedule you set in your Account in that channel.

Submitting a feed via FTP/SFTP requires you to input credentials from the channel into GoDataFeed so that our system can submit the feed to the channel at the schedule you set within the feed 'Settings' page.
Toggle the cards here to review how to set up either submission method:
Following the steps in the Help article for the channel, locate your FTP or SFTP credentials in your channel Account, and paste them here in the FTP host address, FTP User name, and FTP Password fields (steps 1-3 highlighted in the screen below).

IMPORTANT: you must toggle the 'OFF' button to 'ON' and set a submission time and days of the week to tell GoDataFeed when to submit the feed to the channel (step 4 in the screen below) and click 'Save' (step 5).



Completed FTP/SFTP feed submission settings should look like this:



The second card displayed on the feed 'Settings' page is the 'Feed Pull' card. If this is the preferred method for submitting a feed to this channel, a star icon with a 'preferred publish method' indicator will be displayed in the top right corner of the card as displayed below.

You will click the 'Create Feed URL' button to generate a unique URL for this feed.



After the URL is generated, you will copy it and input it into your Account in the channel following the steps in the Help article for that channel, and set a schedule for when the channel will fetch the feed from GoDataFeed via this URL.

You can disable the feed URL as well as regenerate the feed pull URL as needed.