Our integration provides seamless product imports allowing you to manage your product data on WiX Stores while we automatically retrieve the latest changes on a daily basis.
Approve GoDataFeed to connect to your WiX Store
The following steps will help you connect your WiX store with GoDataFeed.
Step 1

From GoDataFeed, go to Products > Primary source
Step 2

Select WiX, then click Connect

If there are any import settings on your store already, then this process will override any primary source settings.
Step 3

In WiX, click Add to Site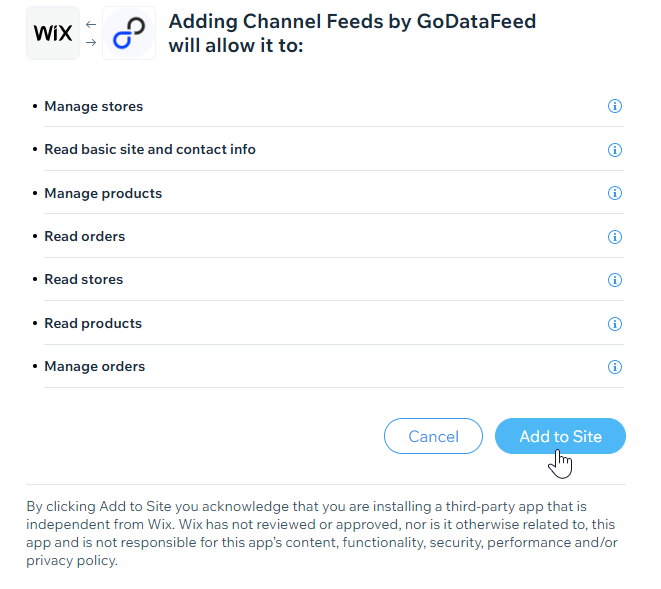 Step 4

Optional, enable additional import options

Once connected, our system starts importing products. But, we're not done yet. There are additional options that allow you to handle the imported product data differently. Please review them and enable those options that will import your product data in the way you desire.
Include variants:

Enable to import products which are variant children.

Include hidden products:

Enable to import products that are marked as hidden in WiX

Retain ASCII:

Enable this if you would like to retain ASCII encoded characters like trademarks.
Step 5

Optional, review allotment and schedule

By default, we set your allotment to your subscription included maximum, like 1,000 for Lite. You may increase your product allotment, or maximum number of SKUs to be imported, for a nominal fee per thousand additional SKUs.

By default, we set the daily import to sometime overnight according to North American timezones. At the scheduled time, we first import your product data, then we compile the feed and submit it to the channel. You may update the import schedule as desired.

🎉 All done! You can now add a feed template to get your products everywhere.