Filter rules allow you to manage which products you include in each feed.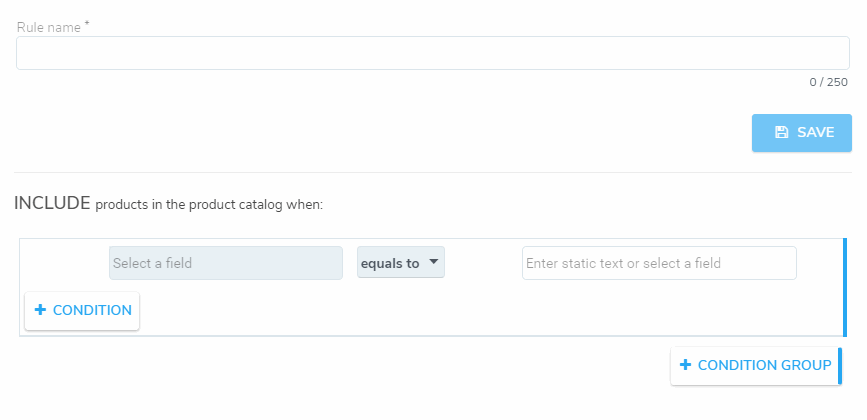 Important information regarding filter rules: 
Create product filter rules to include only a subset of your store's products

An unfiltered feed includes all products from your product catalog unless you manually exclude them on the product validation page

Filter rules are executed according to their sequence

When a rule is executed, products that do not meet the rule conditions are removed from the feed

The order of your filters is important because filters remove products when the rule is executed, meaning the next rule cannot include a product that was already excluded

You can manually exclude or include individual skus on the product validation page

You may also filter products globally at the product catalog import level using import filters
To apply filter rules:
Go to the Feeds tab from the left navigation
Select the desired feed template
Select Filter rules under the SETUP section in the sidebar menu
Click the plus button 
Name the rule
Select the [P] Product or [F] Feed field you want to filter by
Select the desired criteria for the filter
Enter the value for the filter logic
To add conditions:
Click + Condition
Select And or Or from the dropdown
Follow Steps 1-2 above for each Condition
To add condition groups:
Click + Group
Select And or Or from the dropdown
Repeat the above steps for each Condition Set
Save
To confirm the rules are excluding the correct products:
Compile the feed

inside the feed, go to ACTIONS
then select Compile feed preview

When the compilation has completed, you can review the products in two ways.

Download the feed file from the ACTIONS menu
Go to the Products link under the Feed name



Jump to the Products tab
You can review all products or select the Reason: All, Error, Filter, Manual, Performance Automation.