Intro to Data Ecosystems
There are a lot of product data tools and solutions out there - so many that you might not even know what kind your team is using. Let's take a closer look at the complete ecosystem surrounding your product data and feeds. To understand the product data ecosystem, there are three key, distinct areas to consider:
Internal organizational data

Internal product data

Customer-facing data
1. Internal organizational data
Tools for internal organizational data will usually deal with data relating to supply chains, financing, or manufacturing.
ERP (Enterprise Resource Planning): The backbone of an enterprise organization, which facilitates the flow of information within and outside of the organization. You may know examples such as SAP R/3 or R/4 HANA.
MDM (Master Data Management): A key central repository for all kinds of critical organizational data, including products, contact lists, and more. This is a business initiative devised to keep all data in a kind of "master file", to decrease redundancy.
DAM (Digital Asset Management): A digital library specifically for content - not just product content - where employees, clients, contractors, and other stakeholders can all have controlled access to key data.
2. Internal product data
Tools for internal product data help businesses manage the flow and storage of product information within the company. This is more often managed or overseen by IT, rather than marketing or sales.
PDM (Product Data Management): Used to manage all information related to products, particularly internal information like CAD files and further documentation.
PLM (Product lifecycle management): A solution used to manage and analyze the complete lifecycle of products over time in a more strategic, rather than technical, manner. This includes information from the inception, creation, and manufacturing of a product, all the way to disposal.
PIM (Product Information Management): A central repository for all raw product data including titles, descriptions, GTINs, prices, and (much) more. This is used internally to keep a clean, thorough, "Golden Record" of all product data. Examples: Salsify, Plytix, amplifi.io,

ContentServ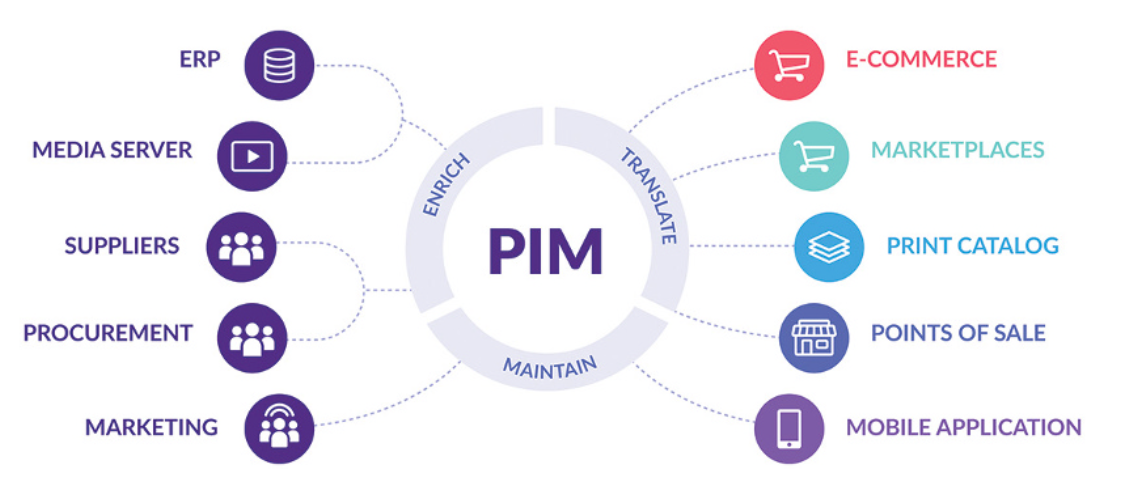 3. Customer-facing data
Tools for customer-facing data turn internal raw data into customer-ready data and, sometimes, distribute that data to the target channels. Solutions in this group can have a large amount of overlap, especially between PXM and PIDS , and solutions like GoDataFeed tackle needs within both categories.
PXM (Product Experience Management): Platforms that create a link between raw product data and customer-facing platforms.
PIDS (Product Information Distribution Services): Platforms with built-in capabilities to easily tailor raw data according to specific channel requirements. They also transfer the product data to target channels reliably and regularly.
Feed Management: Tools which are one subset of PIDS, dealing specifically with peer-to-peer networks like Facebook and Google as opposed to data pools like GDSN or onboarding services.
GoDataFeed works with your data ecosystem
Solutions like GoDataFeed tackle the needs of these categories and could fit into any one of these definitions.
When you're ready to continue, click Next.