GoDataFeed supports importing special characters and multiple languages. In order to support this there are additional settings that must be enabled on the import and feeds.
To update the encoding type within your product import you can enter your encoding type such as "UTF-8" or "Windows-1252" in the import settings as shown below.
The import settings can be found by logging into Godatafeed and navigating to Products > Primary Source and scrolling down to the File Encoding section:

Above the Encoding type section, you will see a checkbox you can enable if you would like our platform to retain the ASCII encoding. You may need to review with the channel if the channel supports ingesting these formats additionally.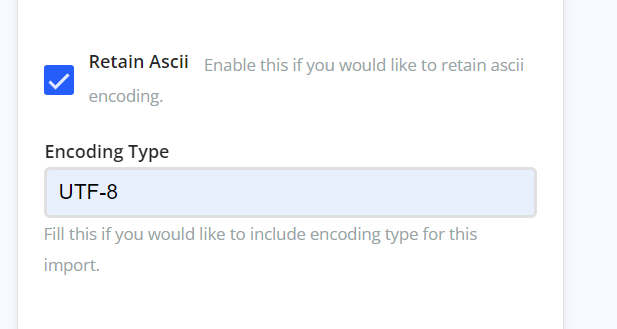 Once you save these settings we recommend triggering a new import. Once the latest import is complete we recommend downloading the latest import to review if your special characters are updating as expected. Most users find that setting the encoding type as UTF-8 helps bring in special characters as expected however if there are still issues with certain characters you can try Windows-1252 as an option.
If you are still having issues with language support, please open a support ticket so our support team can further assist with your specific issue. Please be sure to include examples of the issue you are reporting and any steps taken in order to best assist you.