This article will show you how to configure and submit feeds via feed pull using scheduled fetches to Google Merchant Center.
Please note, there are two ways you can choose to submit your feed to Google Merchant Center either via feed pull url using scheduled fetches as this article outlines or via FTP/SFTP. You can choose to enable either options.

The steps outlined in this article can also be found from

Google

, if any parts are not up to date feel free to contact us.
Step 1

Create a new primary feed in Google

First, we need to create a feed record in Google Merchant Center so that Google can recognize the feed file to look for when we submit from GoDataFeed.
Log into Google Merchant Center
Be sure the website is Claimed and Verified (See Business Information > Website)
Click Products on the left-hand menu and then select 'Feeds'
Click the button to add a new feed


Under the "Target countries" select the add button and select the countries where you want to show the products from this feed to and select Save. Please note some target countries have additional requirements.
Once you save a Target country you will need to select the language of the content in your feed and select Continue to move forward.

Select the destinations you would like to list your products to. Destinations let you select which Google products can display the items in your data feed. Typically most customers select all: available destinations

and click 'Continue'.

Enter the primary feed name (this is not the file name but simply how you describe the feed) i.e. "GoDataFeed".
Choose how to set up your feed as 'Scheduled Fetch' and click 'Continue'.


Enter the name of your feed file from GoDataFeed (this must match the file name in the feed settings page). To check this field you can navigate in GoDataFeed to Feeds > Select the feed > Settings. We recommend entering a file name without any spaces. Next you will need to copy your feed pull URL or you may need to generate a feed pull URL in Godatafeed within the feed settings. Once complete, click 'Continue'.
Step 2

Set feed default currency to US Dollar
Back on the Google Merchant Center dashboard, click on 'Products' then 'Feeds' then click on the feed you just created and click on 'Settings'.
Locate the Default currency section and select your 'default currency' and click 'Save'.


Now, you are ready to submit your feed from GoDataFeed to Google. Once this is saved you can select Fetch Now in the top right. This may not populate until the Currency is saved.



Step 3

Check feed processing in Google Merchant Center

Be sure to monitor the Processing tab in Google Merchant Center for your feed. Google will provide initial results for the feed submission however this may take anywhere from 30 minutes to 72 hours for Google to fully process the feed and crawl the data.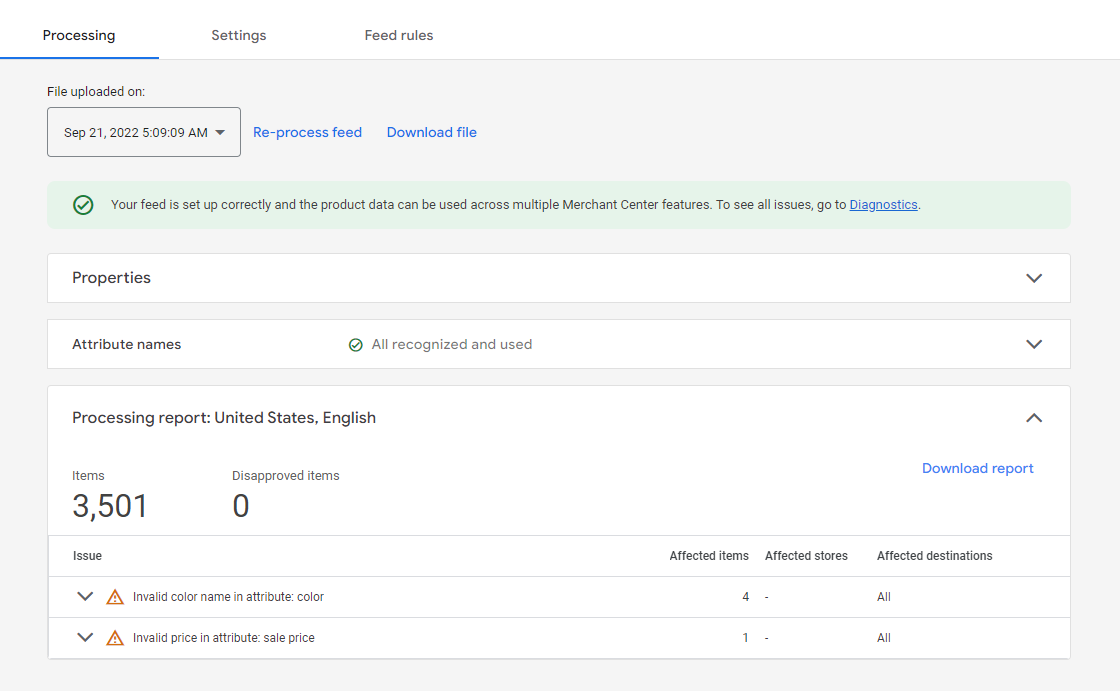 In this example screenshot, the feed has 1 product with an error about invalid UPCs (GTIN).
Please feel free to contact our support team for any assistance with the feed submission or to help resolve feed errors from Google.