This article will show you how to configure and schedule your feed submission to Google Merchant Center.
Please note, we will show you how to submit a feed from GoDataFeed to Google's FTP uploads method. If you want to use the Fetch method then please see the steps in our Submitting Feeds to Google Merchant Center via Feed Pull URL.
Step 1

Create a new primary feed in Google

First, we need to create a feed record in Google so that Google now's which feed file to look for when we submit from GoDataFeed.
Log into Google Merchant Center
Be sure the website is Claimed and Verified (See Business Information > Website)
Click Products on the left-hand menu and then select 'Feeds'
Click the button to add a new feed


Select the desired 'Country of Sale' and 'Language'.
Enable this feed for the desired Destinations, typically you should select all: 'Shopping Actions', 'Shopping ads' and 'Surfaces across Google' and click 'Continue'
Enter the primary feed name (this is not the file name but simply how you describe the feed) i.e. "GoDataFeed".
Choose how to set up your feed as 'Upload' and click 'Continue'
Enter the name of your feed file (this must match the file name in the feed settings page). We recommend entering a file name without any spaces. Once complete, click 'Continue'.
Step 2

Set feed default currency to US Dollar
Back on the Google Merchant Center dashboard, click on 'Products' then 'Feeds' then click on the feed you just created and click on 'Settings'
Locate the Default currency section and click the down arrow to select 'US Dollar' and click 'Save'
Now, you are ready to submit your feed from GoDataFeed to Google.
Step 3

Setup FTP submissions to Google Merchant Center
In GoDataFeed, open the Google Shopping Merchant Center feed settings, go to Submission Parameters - you will copy and paste FTP details from Google Merchant Center into this section

In Google Merchant Center, c

lick the settings icon on the upper right-hand side of the screen and choose

'

SFTP/FTP/GCS

'



Expand the FTP settings section
Select 'Create an FTP account' unless one already exists
Server will be the value we use for FTP Host Address in GoDataFeed,
Copy and uploads.google.com into the FTP Host Address on the GoDataFeed Feed Settings page
aste
Copy and paste the Username (i.e. "mc-ftp-########")
Click 'RESET' in Google, copy and paste the Password into the GoDataFeed

Please consider whether you are using any other applications or services that might be currently connected to Google FTP using the current FTP password. Those connections may be severed when you reset the FTP password.

Save the submission parameters in GoDataFeed
Now, you are ready to schedule your submission and setup email alerts.
Step 4

Schedule submissions and enable email alerts
Select a scheduled submission time in GoDataFeed - you may see a default time already set by our system

Under General settings, choose which email alerts to receive and enter your email address - we highly recommend receiving an email for Feed fails, if you want to receive emails with a summary of the feed totals including the feed validation warnings and errors, then enable Feed succeeds

Save
Here are examples of the emails you receive by our system when a feed succeeds or fails
Feed Succeeds Email example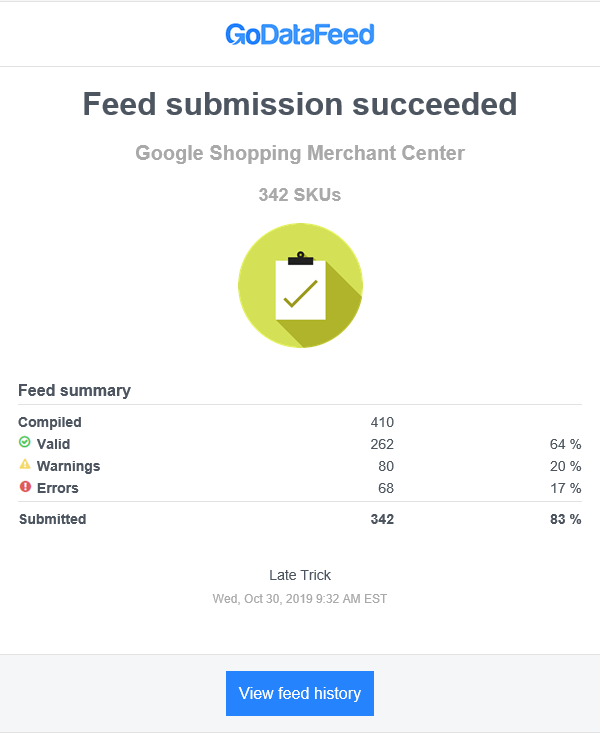 Feed Fails Email example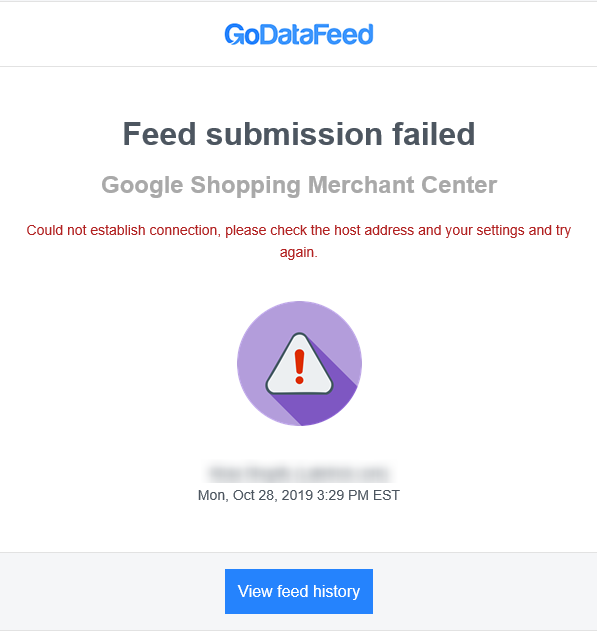 Step 5

Submit your feed to Google

Now, you are ready to submit your feed to Google.

From the feed in GoDataFeed, click Submit Feed.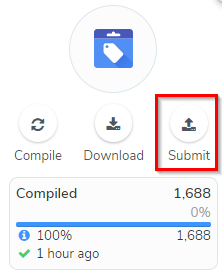 Step 6

Check feed processing in Google Merchant Center

Be sure to monitor the Processing tab in Google Merchant Center for your feed. Google will provide initial results for the feed submission.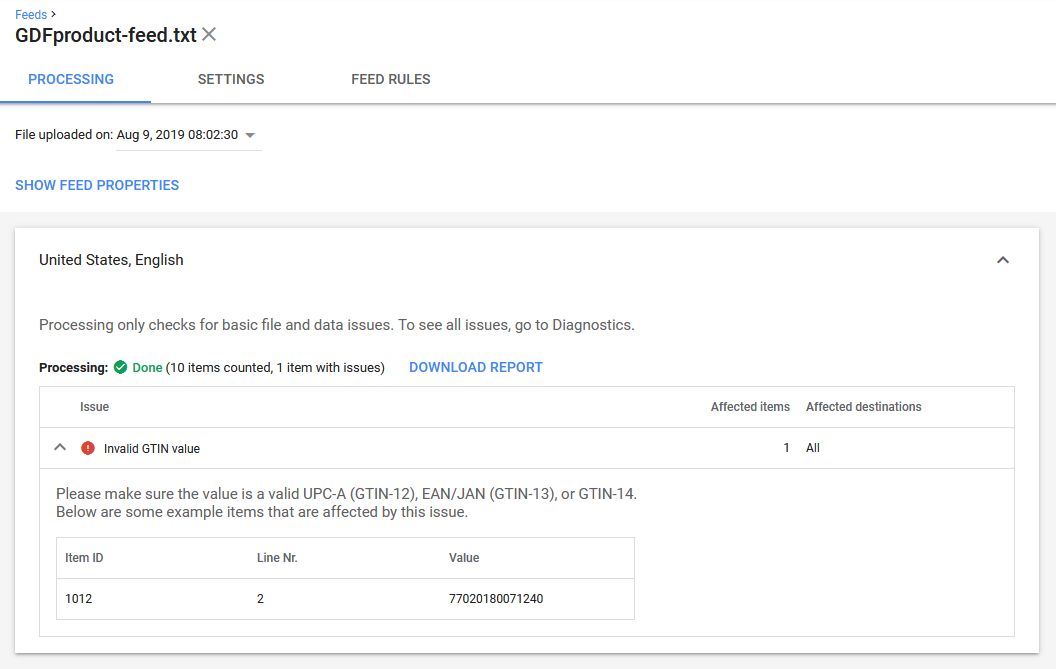 In this example screenshot, the feed has 1 product with an error about invalid UPCs (GTIN).
Please feel free to contact our support team for any assistance with the feed submission or to help resolve feed errors from Google.