Make Google Sheet public
Once you have created your data file and are ready to merge, you will need to publish your Google Sheet to a CSV file in order for our system to bring in the updated changes at the next scheduled import time. Please see the following steps below on how you can make a Google sheet public: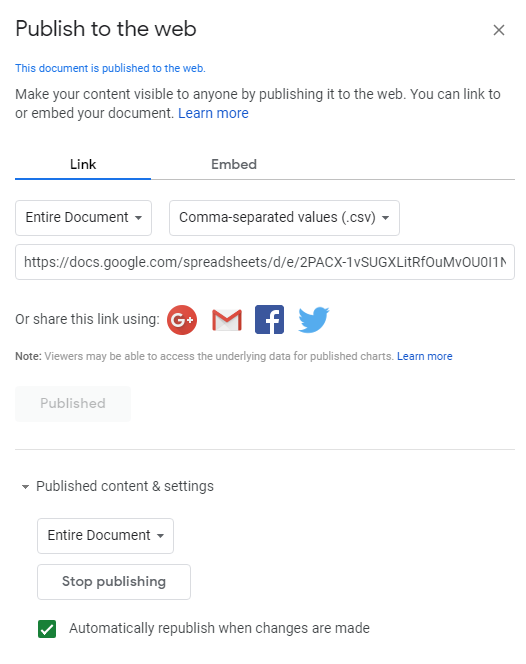 In Google Sheets, go to File > Publish to the web
Select "Entire document" and "Comma-separate values (.csv)"
Under "Published content and settings" dropdown menu, check the "Automatically republish with changes are made" option

This means then you make changes to the sheet they are immediately ready to be imported by our system. Once you make a change to your merge file in Google Sheets, simply run a new product import in GoDataFeed. Otherwise, the changes will be imported at the next scheduled time.

Lastly, (starting 11/18/20, you will also need to make the Sheet public) click the "Share" button

Under the "Get Link" section choose "Anyone with the link" - note, the view, edit permission don't matter in this case because we are simply getting an export .csv of the data not using the web browser.


This will allow our system to download the data.

You are all done - to confirm the share settings are correct, you should now see "Anyone with the link" or in the top-right corner you should see the Share button with a link icon.