This article contains information from How should I use Dynamic Retargeting? | English (US) (outbrain.com)
How do I set up a Dynamic Retargeting campaign?
In order to activate Dynamic Targeting, you must (1) upload your product feed and (2) ensure the Outbrain Retargeting Pixel is live with the necessary code.
Go to the Dynamic Retargeting tab on the left-hand menu (see screenshot below) where you can copy the revised Outbrain pixel and link your product feed.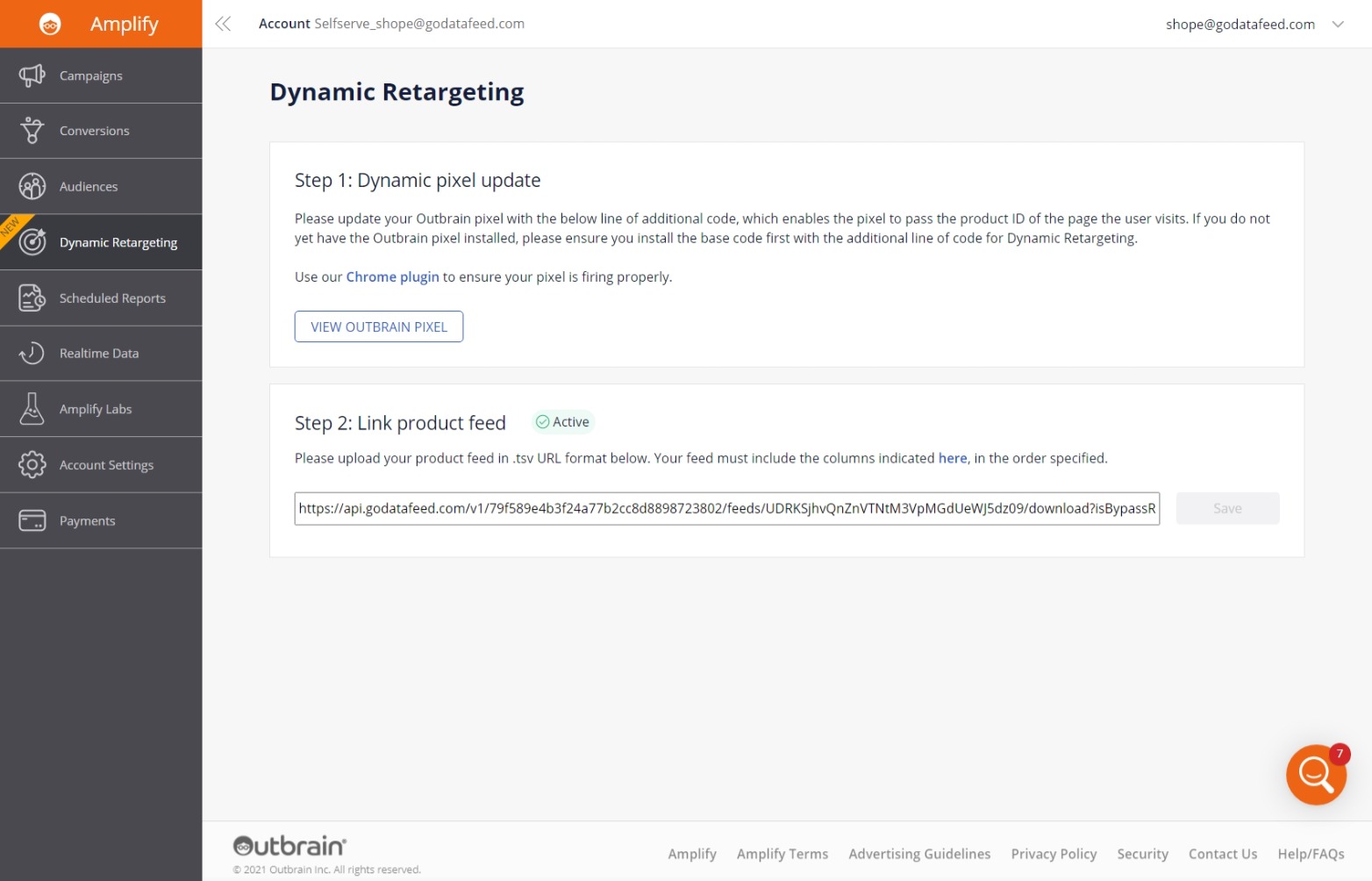 Link Product Feed
On the Dynamic Retargeting page in Outbrain, you will paste the feed URL from GoDataFeed into the feed URL input box.
Note, Outbrain says they accept feeds in TSV (tab-separated values) format. Your Outbrain feed from GoDataFeed will be in TXT (tab-delimited) format which is also accepted by Outbrain.
Step 1

Copy and paste your feed URL from GoDataFeed
In GoDataFeed, go to Feeds>Select Outbrain
Open the feed settings for your Outbrain feed template
Under Feed Pull, copy the feed URL

If needed, click "Create feed URL"

In Outbrain, go to the Dynamic Retargeting page
Paste the feed URL into the feed input box
Click Save
Step 2

Validate your feed in Outbrain

Outbrain will validate the feed and the feed status in Outbrain will be "Pending". Once the feed is validated, it will say "Active".

🎉 Now, you are ready to continue setting up your dynamic retargeting campaigns in Outbrain.
Getting help
Outbrain Support Team can be reached by email at support@outbrain.com or in-app Live Chat.