URGENT: Update your Amazon feed settings by March 31, 2021
This process requires the Amazon Seller Central account owner
On April 1, 2021, GoDataFeed will stop connecting with Amazon MWS using seller-registered keys and will only make connections to Amazon MWS which use an Auth Token. In order to continue submitting feeds or syncing orders with Amazon, any seller who is not currently using the Auth Token method will need to switch from using seller-registered MWS keys to authorizing GoDataFeed's app to access their Amazon account using Amazon MWS.
How to switch from using Seller Registered MWS Keys to GoDataFeed's Developer Token
Below are steps to complete this switchover. At the end of these steps, you will be provided with your Amazon Seller ID and MWS Authorization Token which you will copy and paste into your GoDataFeed settings.
Step 1:

Enable the "Use Amazon Token" option in your store settings

In GoDataFeed, go to the store settings page using the shortcut on the left menu. Find and enable the "Use Amazon Token" option and save. If you do not do this step, then you will not see the correct settings fields in GoDataFeed when you get to Step 5 below. If this option is already enabled, then please continue.

GoDataFeed Store Profile settings showing the "Use Amazon Token" option enabled.
Step 2:

Authorize GoDataFeed's app on Amazon

Select which region you are using. Repeat this process for each region your feeds require.
Developer's Name: GoDataFeed

Amazon US Developer ID: 379788198321

OR

Amazon UK / EU Developer ID: 094479053376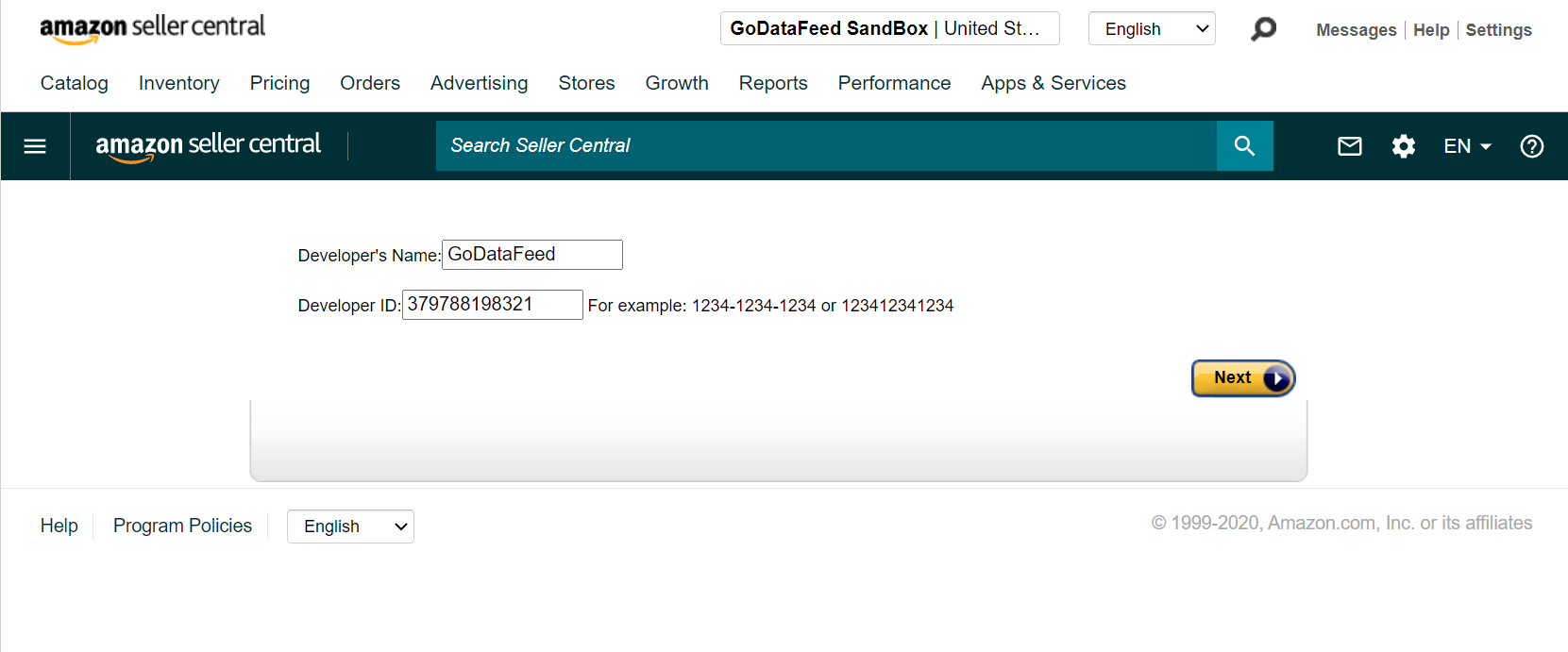 Amazon Seller Central's "Authorize a developer" process starts with the name and ID.
Step 3:

Accept the terms and click Next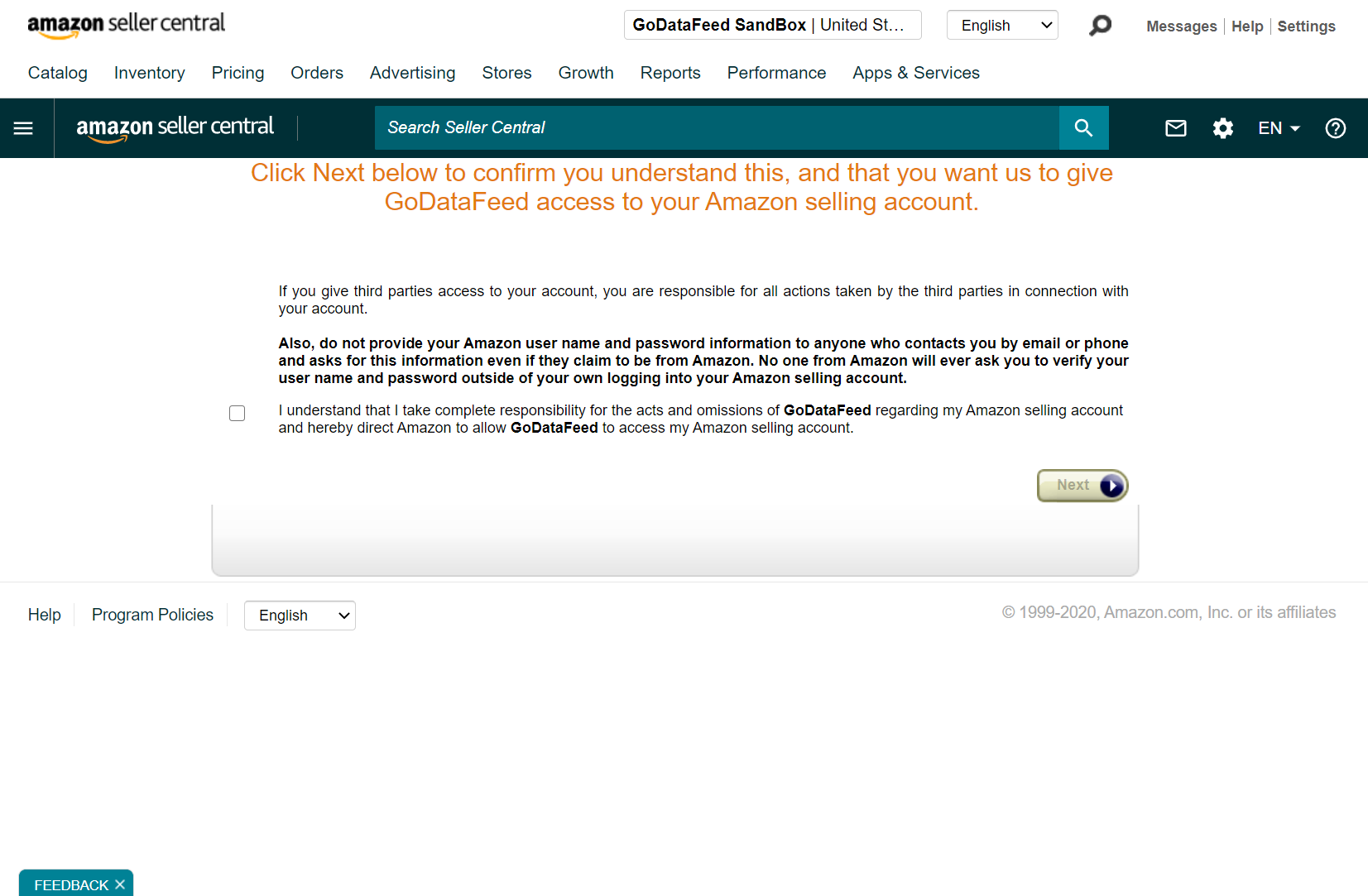 Amazon Seller Central's "Authorize a developer" process ensures you accept the terms before providing the token.
Step 4:

Your Seller ID, Marketplace IDs, and MWS Auth Token will appear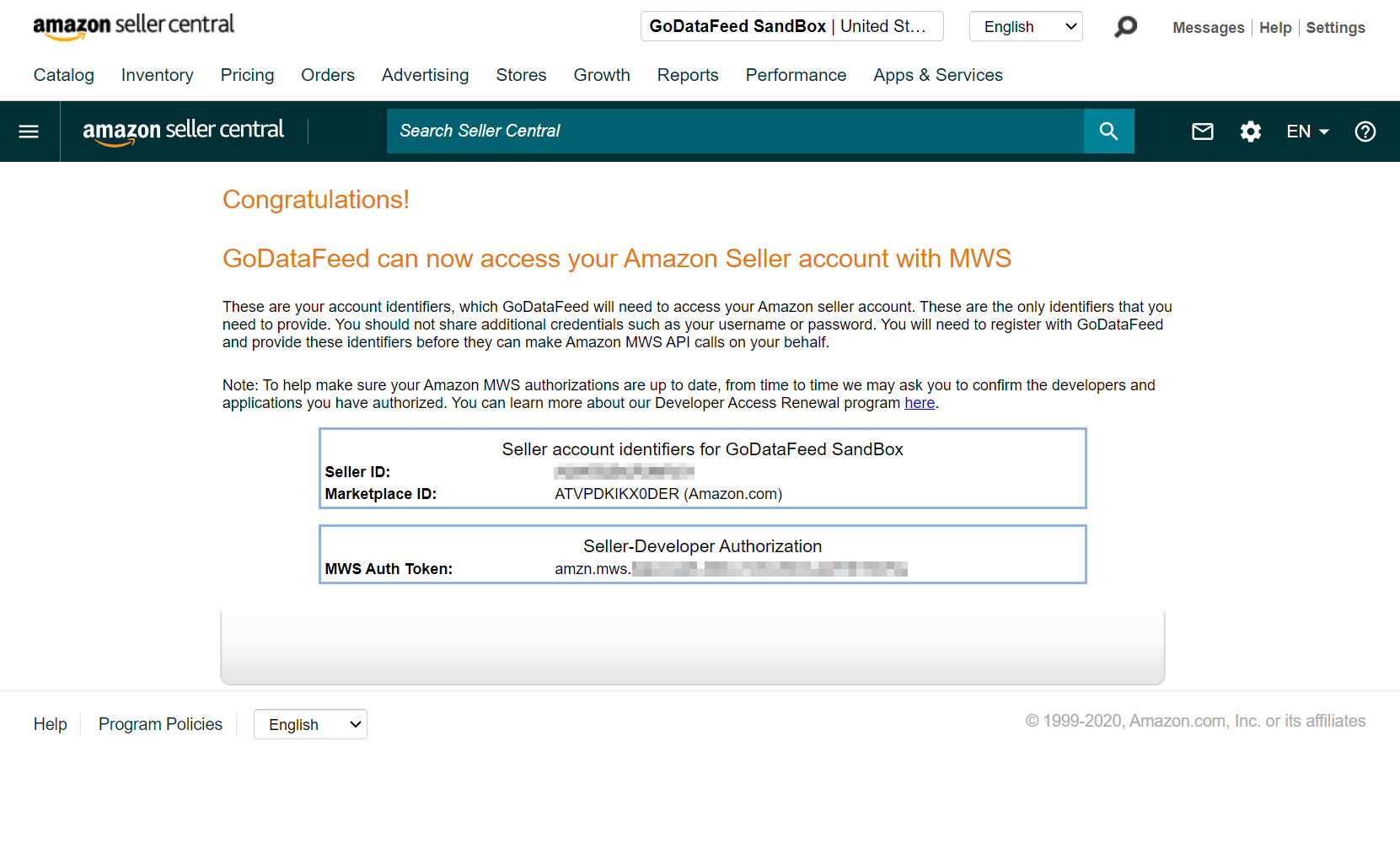 Amazon Seller Central's "Authorize a developer" process ends with providing you with the token and IDs necessary to connect to your account.
Step 5:

Copy and paste these into GoDataFeed, and click Save.

If you do not see the Seller Auth Token setting field, then please see Step 1 and enable the store settings to "Use Amazon Token" option and refresh your feed settings to try again.
For Feeds, go to Feeds > Amazon > Settings > Submission Parameters (repeat for each Amazon feed template)
For Order Sync, go to Orders > Settings > Marketplace Sources > Amazon

GoDataFeed feed/order sync settings updated to use the Auth Token.
---
All done!
Your feeds are now compliant and will experience no interruptions in services.
Please contact our support team if you have any questions at help@godatafeed.com.