Please contact us to change the account owner
Update email recipients of your invoices and other billing updates
By default the email provided at signup will receive billing emails including invoices. To update who receives these emails follow these steps:
Go to Settings > Billing Settings
In the Primary email address box
Enter the email addresses you wish to be contacted with invoices and payment notifications
Use a semicolon to separate each email address
Note: This does not grant the user access to view the invoices via the dashboard, but will send the invoices directly to the emails listed.
Update default email recipients for a store
Go to Stores settings to update the default email recipients which is used for any new feed added.
Update email recipients of import alerts
Receive alerts about the status of your product catalog import. Alerts are sent after each import attempt. Receiving an email if the import fails is the most common option.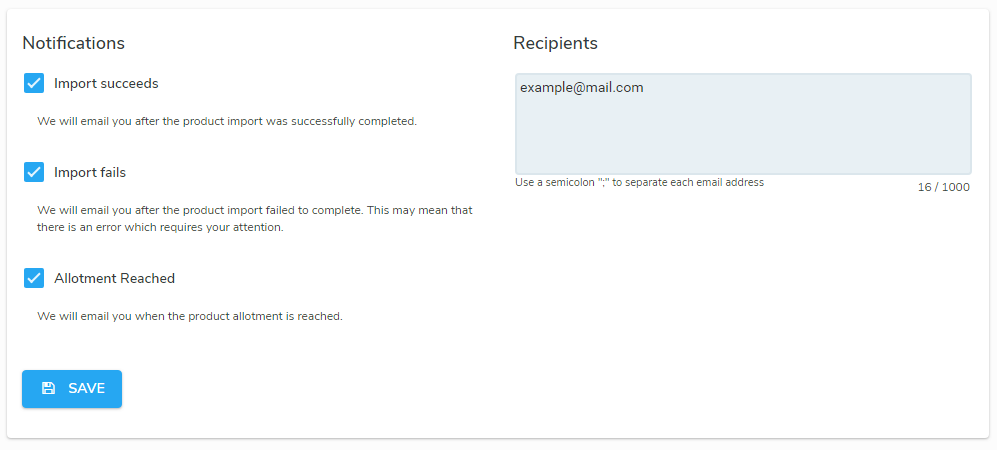 To manage product import email alerts:
Sign in

to GoDataFeed at

app.godatafeed.com
If you have more than one store, ensure you switch to the desired store
Go to

Products

from the left-side navigation
Go to

Email alerts

from the sub-menu
You can

add or remove email recipients, or simply disable all email options to stop receiving email alerts concerning the product import
Update email recipients of feed alerts
Receive alerts about the status of your feed after each feed preview compilation and feed submission. Electing to receive an email only if the feed submission fails is the most common settings users choose. For the feed submits to a channel that provides a processing report, such as Amazon, Walmart, eBay, Newegg, Rakuten, then we also provide an email with the processing results.
To manage feed email alerts:
Sign in

to GoDataFeed at

app.godatafeed.com
If you have more than one store, ensure you switch to the desired store
Go to

Feeds from the left-side navigation
Go to

Feed Settings

from the right-side Options drop-down

for the desired feed
Find the Email alerts section inside general settings section
You can

add or remove email recipients, or simply disable all email options to stop receiving email alerts concerning the data feed
Repeat these steps for each individual feed as needed