What is Shopping Actions?
Announced on March 19, 2018, Shopping Actions is a universal checkout experience hosted by Google. With Shopping Actions, shoppers can find and purchase your products directly on a range of Google interfaces including search, display, Google Express, Voice Assistant, and Google Home smart speakers.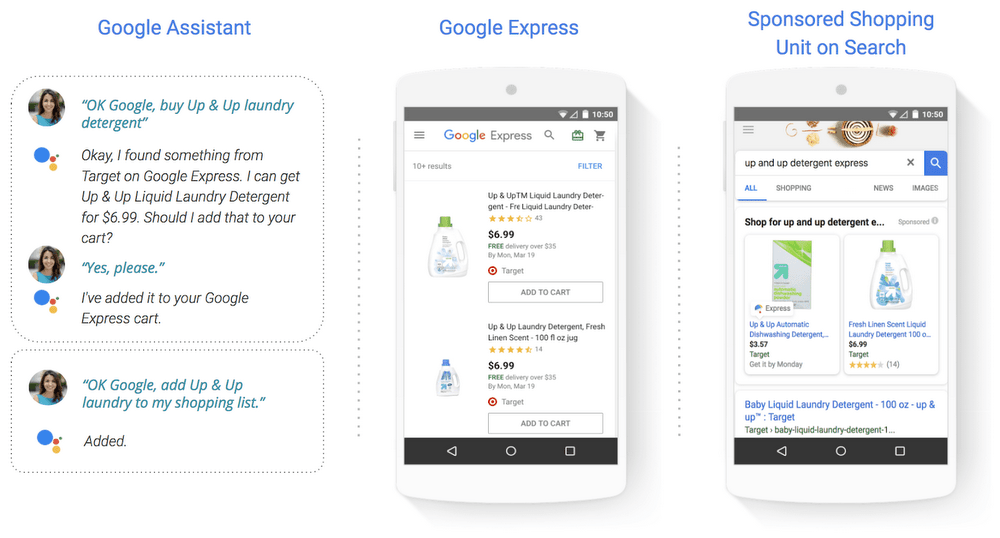 Since the transaction occurs directly on Google, there is no re-direct to your own webstore. Instead of Google Shopping's pay-per-click model, you pay Google per sale ("pay-per-sale"). The pay-per-sale commission rate is similar to marketplace commission rates.
With Shopping Actions you should expect higher conversion rates, higher average order value, and higher repeat purchasing.
Getting started
Complete the setup and request a final validation
Check out Google's Quick Start guide for more information.
1. Complete your storefront setup

Navigate to the Shopping Actions tab in Google's Merchant Center.
Choose a product feed you'd like to sell through Shopping Actions.
Upload branding: logos, color, and banners will appear on your Google Express storefront and marketing material.
In your tax settings, make sure you're collecting the right amount of sales tax for each of the places you deliver.
Set up shipping details, the price to the customer, and any rate settings or rules.
Set up your default return policy and return address.
Provide payment details for receiving payments and for invoicing.
Review user roles: all account admins have been granted Shopping Actions admin rights (including payments and orders). You may adjust or restrict as required.
Provide an email address so Google's customer support team can contact you in case any issues occur.
Choose whether to show Marketing email opt-in checkbox.
Enter the URL for your privacy policy so Google can review it to ensure your policy meets our requirements for sharing user email addresses

2. Accept the Shopping Actions terms of service addendum

Review and accept the Shopping Actions Merchant Program Addendum.

3.

Review your storefront

Your products across the Google Express Mall (you can exclude individual products using the "excluded_destination" field in your Google feed)
Sales taxes
Shipping options, costs, and estimated delivery dates
Return policy on product details page
Branding assets, such as logos and banners

Once you've completed these steps, you can click REQUEST FINAL VALIDATION to enter Google's final review.

4. Activate your products for sale on Google

Google strongly recommends publishing your store Monday through Thursday during normal business hours so you can properly handle any new order volume.

5. Monitor and fulfill orders

Check Merchant Center Orders page or use GoDataFeed's Order Sync tool to get orders into your webstore platform
Can I change my prices?
No, your price on Google cannot be greater than the price on your webstore.
Your price on Shopping Actions must be less than or equal to your webstore price. If it is, the price you uploaded to Google will be overwritten by the price on your webstore.
Prohibited items
You'll need to exclude any individual products from your product feeds that are ineligible for these programs. For information about prohibited items, please review the Terms of Services in your Merchant Center account, the Google Shopping policies, and Google payments center content policies.
Prohibited products to opt out include, but are not limited to, the following:
Items on final sale
Custom and personalized products
Bundled service plans
Used or refurbished products
Digital goods
Digital subscriptions
Products that require in-store activation
Products sold by marketplace sellers
Can GoDataFeed help me enroll with Google Shopping Actions?
Yes, contact GoDataFeed support for assistance.
Not using GoDataFeed? Contact us and we'll help you get started.