Active feeds are listed along the right side of your dashboard and can be reordered manually by using the Move
cursor.

You can filter existing feeds using the All Feeds dropdown menu to choose from Marketplaces, Comparison Shopping Engines, Affiliate Networks, Retargeting, Mobile, International or Custom feed types.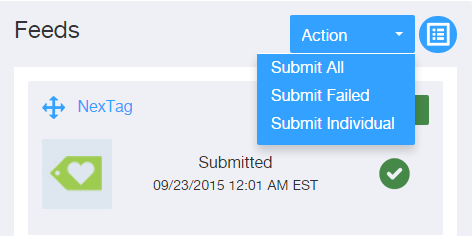 Each feed will display a Feed Score at the top right of the feed as a percentage. Feeds will also show the last action of that feed and the date and time that action took place.

Feeds can be submitted right from your dashboard. You can elect to submit all your feeds at once, or submit feeds individually.

You can also proceed to the feeds page for a detailed view of each feed by clicking the All Feeds

icon.

From your Dashboard feeds list, you can:
Edit feeds by clicking the feed name
Clone feeds by click the copy icon
Delete feeds by clicking the trash icon
Activate and Deactivate feeds using the activate toggle switch

You can also activate Analytics and Enhanced Reporting modules for each feed using the associated toggle switches.

Finally, for Custom Feeds and Cloned Feeds, you can Edit the Feed Template using the wrench
icon.